But – and this is a feeling we all know – sometimes simply catching a glimpse of flight prices is enough to make us put down our mobile phones or snap our laptops shut. It can seem like the bucket list is long, while the time and resources are all so short. And, with so many spectacular sights across the globe, it's hard to narrow them down to only the ones we can dream of for now. The good news? It doesn't have to be that way.
Ahead, we're starting you off with five incredible destinations to stick on your bucket list and get ticking off next year, along with insider tips on what to do in each place; and did we mention? All without breaking the bank. The days of sacrificing your vacation days in the name of saving money can be gone – with a little planning. Just don't forget to send us a postcard!
Edinburgh, Scotland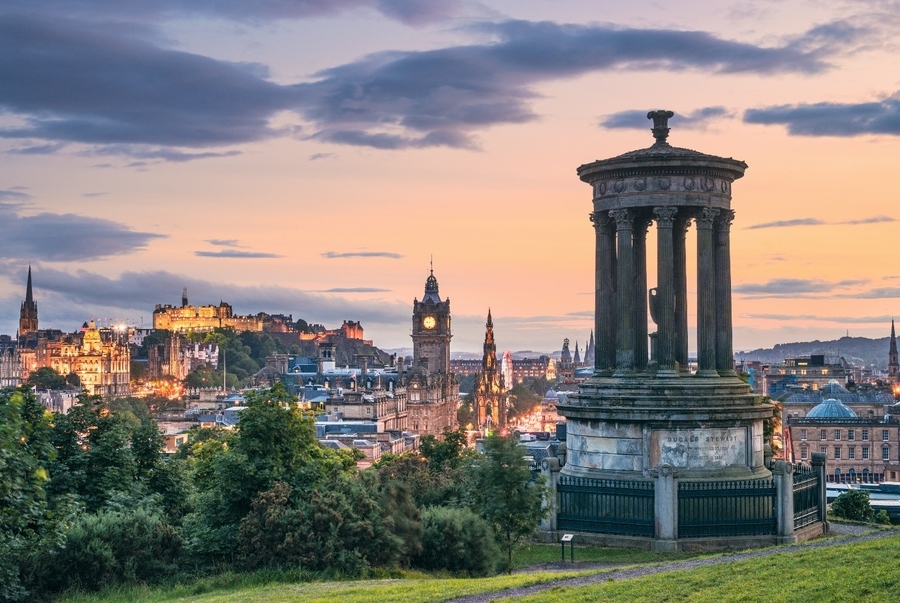 Are you ready to cross the Scottish capital off ye olde bucket list? Bursting with charm and of a manageable size, Edinburgh is the perfect weekend city break destination. From museums and galleries to plenty of parks to explore when the sun's out, this city has – well, just everything.
Best known for its rich mix of history and culture, Edinburgh hosts one of the largest theatre festivals in the world every August: the Edinburgh Festival Fringe. In 2019 there were 63 countries represented onstage, performing in 753 shows! But regardless of the time of year you choose to visit, Edinburgh has bags of culture, gorgeous views, and delicious food and drink for you to enjoy.
We recommend the National Museum of Scotland and the Museum of Childhood, followed by a stop at one of the many historical pubs in the city center. You should be ready in no time to take a long walk through the 650-acre Holyrood Park, just steps from the bustling city center. And, a mile outside the city, the Royal Botanic Garden Edinburgh has over 70 acres to be explored!
If you're into Victorian architecture, The Balmoral Hotel, only a 15 minute walk from the impressive Edinburgh Castle, is a love letter to Scotland and the Scottish culture. The doormen are all wearing the famous tartan kilts, too!
On your way back, make a stop at Aspire Lounge or No1 Lounge at Edinburgh International Airport to freshen up, enjoy the self-service buffet, or have a browse through the bistro menu.
Cappadocia, Turkey (Ankara)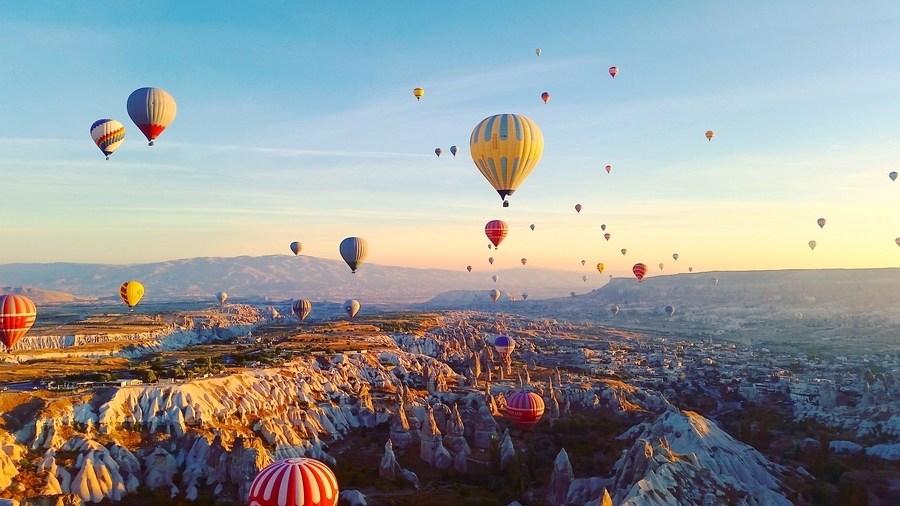 Cappadocia's famous 'fairy chimneys', stretching as far as 130 feet into the sky, look like they were created for a fantasy movie. The surreal landscape of carved-out towering rock formations was formed millions of years ago, when ancient volcanic eruptions blanketed the region in thick ash that was later shaped by wind and water. The quintessential experience of visiting Cappadocia is floating in a hot air balloon over it in the early morning hours!
Spend the rest of the day hiking and exploring Ala Dağlar National Park, and visiting the underground cities of Derinkuyu and Kaymakli, carved out below the ground. If you're feeling brave, head out to the Uçhisar Castle, a tall volcanic-rock outcrop and one of Turkey's most prominent landmarks. Riddled with tunnels, the castle was used for centuries as refuge when enemies threatened to overtake the surroundings. This time there won't be any enemies but the heat, so make sure to carry some water bottles.
If you're not claustrophobic you can even sleep in an ancient rock cave at the Phocas Cave Suites in the village of Cavusin, next to the old town ruins. And, for a taste of the local cuisine, try the "pottery kebab." Slow-cooking meat inside a sealed clay pot to then be broken open in front of you once the meat is cooked is quite the culinary experience!
Once you're done exploring, put your feet up and treat yourself to a glass of champagne back at Anadolu Jet Primeclass Lounge or Comfort Lounge at Ankara Esenboğa Airport – you've earned it.
Marrakech, Morocco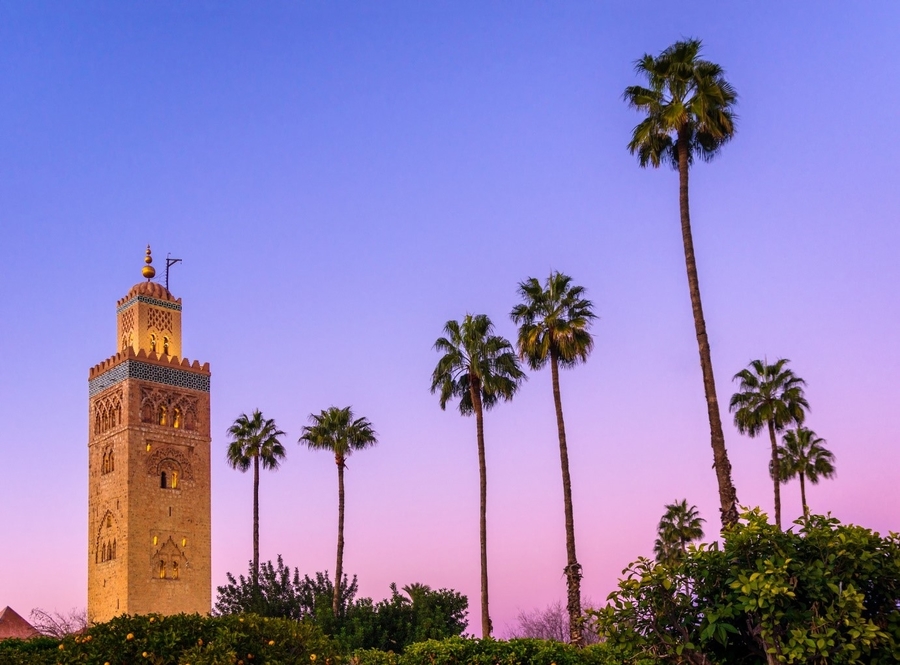 Whatever the state of your list, it's never too late (or early!) to check off Morocco's third-largest city and its dizzying array of souks, mosques, and restaurants. The heat, the smell of spices and the motorbike fumes, the shouts of the stallholders and the bright colours of the pottery and the carpets – prepare for all your senses to be overwhelmed before stepping into this exotic city.
You're almost guaranteed to get lost in the souks at some point, so we recommend downloading the Marrakech-Riad app to help you find your way back. Even if you're not into shopping, they are still a spectacle for any visitor. The Medina district in particular boasts a labyrinth of souks where you can haggle for local produce. When you find something you want, be sure to compare prices at a few different market stalls. Once you've decided to buy, start with offering half the quoted price.
If it starts to get overwhelming, you can take a break at a café, like the Café du Grand Balcon. The mix of European, Middle Eastern, and African cultures that shaped it will make the experience even more interesting – especially when it comes to the food!
The Marrakech Menara International Airport caters to both domestic and international flights, so wherever you're going next you can stop at the two Pearl Lounges to catch your breath and enjoy a drink. We hope you like your new carpet.
Saint Petersburg, Russia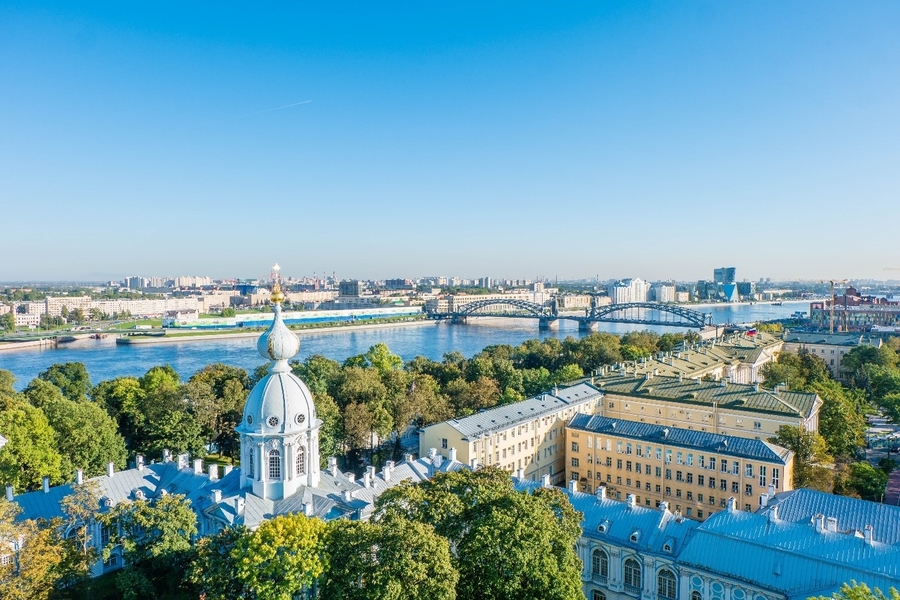 Visiting the largest country (in landmass) in the world should be on any bucket list, and where best to start than its cultural center? Saint Petersburg, the second largest city after Moscow, is often considered Russia's most classical city, and the expansive metro system will easily give you access to the 221 museums this city features – just make sure you've got the time! You can also visit the Mariinsky Theatre for opera and ballet, and the State Russian Museum for art – from Orthodox icon paintings to Kandinsky works, it's a treat for art lovers everywhere.
We know that you might have had visions of knocking back vodka in an impressive fur-lined hat, knee-deep in snow, but there just may be more to Russia. After all, this port city on the Baltic Sea riddled with canals and lined with impressive townhouses may remind one of… Venice!
Once you've explored all (or most) of the city's rich history, we recommend heading to Gastrobar, a contemporary Russian restaurant heavily influenced by a neighbouring Danish design school, paying tribute to the geographical proximity between St Petersburg and the Nordic states. The restaurant sits on the ground floor of a 20th century mansion but is modelled on functional, minimal principles – resulting into a perfect balance between St Petersburg's roots and the clean lines of Scandinavian design. Serving flavourful Scandinavian inspired, paired with delicious cocktails and an impressive wine list, this may be just what you're looking for, whatever it is that you're looking for: a bar, a restaurant or a casual meeting place.
Aeroflot Lounge and Business Lounge at Pulkovo Airport, formally Fyodor Dostoyevsky International Airport, are another good stop just before your flight back home – or will it be to Moscow?
Tel Aviv, Israel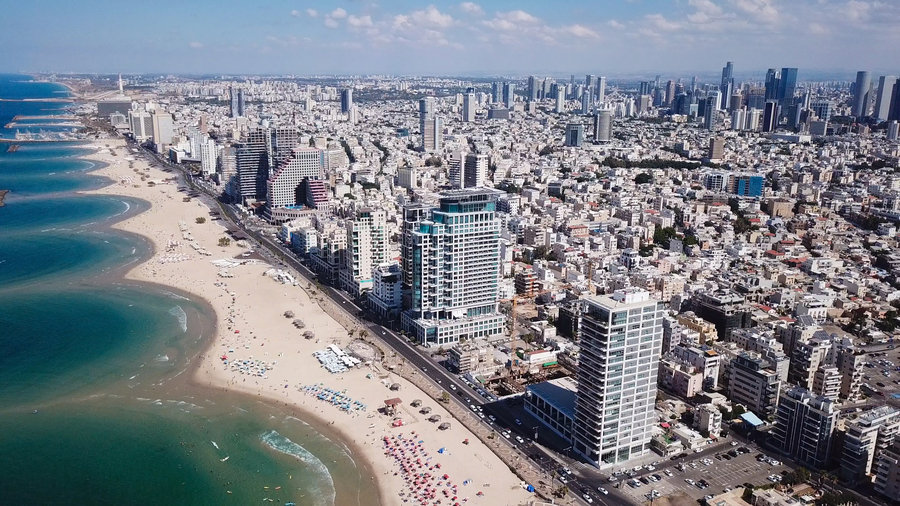 Tel Aviv, the second largest city in Israel after Jerusalem, was founded around the ancient port city of Jaffa on the Mediterranean coast. While famous for its lively, 24-hour nightlife and beaches, Tel Aviv has developed into a major economic and cultural centre in the recent years due to its advantageous location, and is now the largest metropolitan area in the country.
Tel Aviv's character is frequently contrasted to that of Jerusalem – the locals even say that "while Jerusalem prays, Tel Aviv plays." The city is described as thriving, vibrant, modern, dynamic, and multicultural, a place to spend your days at the beach and your evenings at its many hot spots where it's lasers, beats and dancing 'til dawn. If you're a first-timer, we recommend starting with the city's main artery bars.
Tel Aviv's nightlife scene may be one of the best in the world, but the city's importance as the engine of the Israeli economy, and its rich cultural and entertainment amenities are not to be overlooked. If you're into soaking up culture and history more than sunlight, there are numerous museums, including the Eretz Israel Museum covering archaeology, folklore and crafts, and the Tel Aviv Museum of Art. Beit Hatfutsot features multimedia exhibits illustrating the rich history of Jewish communities worldwide.
The Dan Lounges and the Schmoozy Bar at Tel Aviv Ben Gurion International Airport will see you out of Tel Aviv in style – we're hoping to Jerusalem, which is only 40 miles (60 km) away!