| | | | |
| --- | --- | --- | --- |
| 1. Val d'Isere, France | 2. Zermatt, Switzerland | 3. Cortina d'Ampezzo, Italy | 4. St Anton, Austria |
| 5. Vail, Colorado | 6. Mammoth Mountain, California | 7. Park City, Utah | 8. Whistler Blackcomb, Canada |
| 9. Niseko, Japan | 10. Hakuba, Japan | 11. Treble Cone, New Zealand | |

The ski season is around the corner once again for snow sports enthusiasts, and you still have time to book your next ski holiday. With so many resorts and mountains to choose from we have created a list to help inspire your next trip to the mountains. From the epic Canadian heights to the breath-taking Italian dolomites, from the dreamy Japanese powder to the magic of the Swiss alps here are our top-rated ski destinations around the globe.

We can assist - whether you are looking for vast open pistes, off-piste tree runs or perhaps simply the best scenery our blog covers our favourite resorts, the mountain activities, lodging, dining, après and more.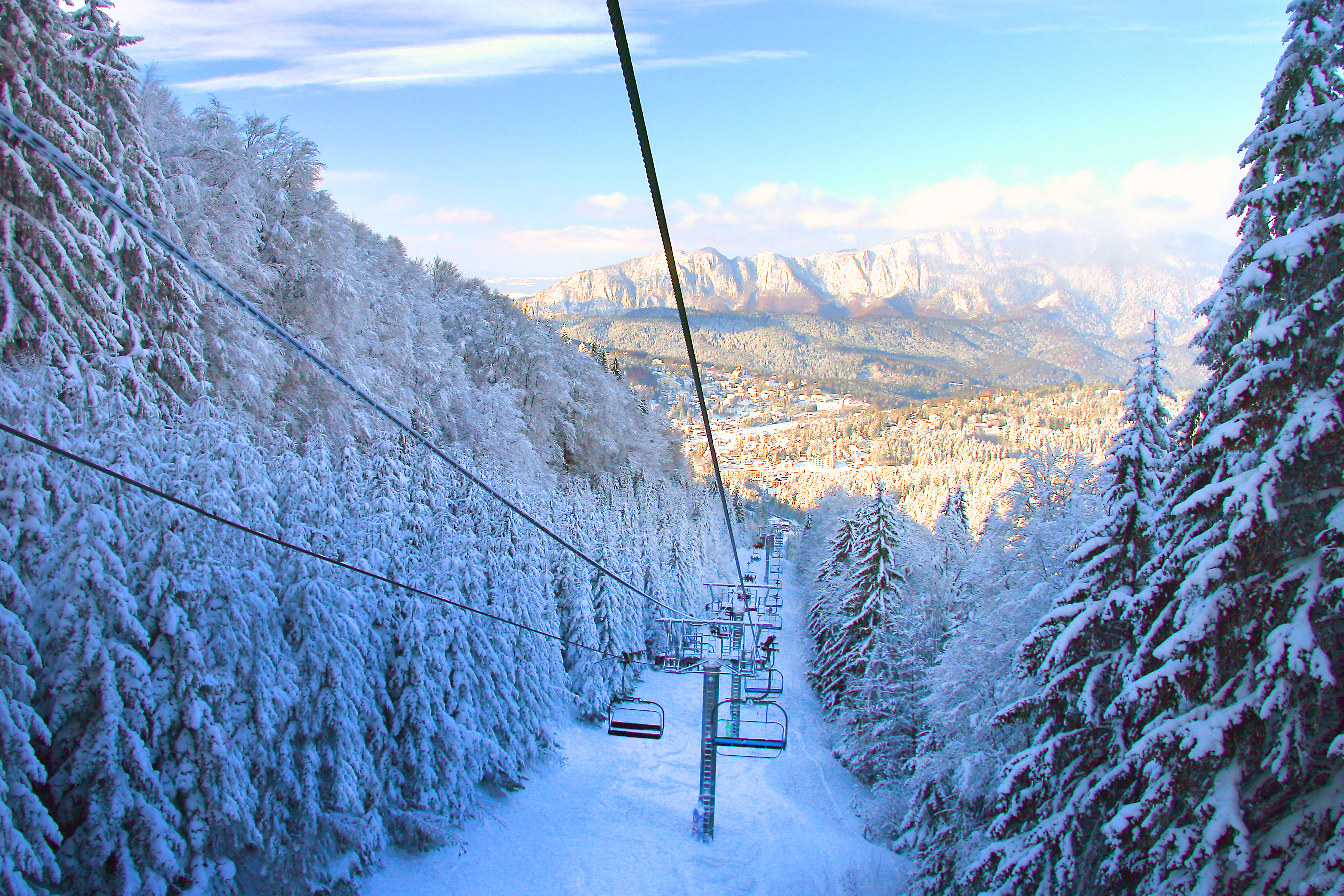 Top European Ski Resorts
France, which is arguably the birthplace of modern skiing, hosts a fantastic selection of resorts, boasting some of the highest levels of snow in the Alps. Val d'Isère is a notorious ski resort that connects to Tignes and neighbours the Italian border. With more than 300km of piste to ski there are plenty of off-piste runs, but most crucially 60% of the skiing sits above 2,500 metres, meaning the ski season lasts longer than most other European resorts and frequently extends into mid-May. Even during the busiest seasons of the year, queuing is rarely a problem at the ski resort thanks to one of the most effective lift systems in Europe.

But the slopes aren't the only draw here. Skiing can be physically intensive, and after a long day on the mountain you can unwind at dinner. Val d'Isere offers several marvellous options for dining out including two world-renowned Michelin-starred restaurants, this resort really is skiing in style.

Val d'Isère is one of the liveliest and most popular ski destinations in France, offering a wide variety of après-ski alternatives, most notably the infamous Folie Douce. Every season, they host the world's highest open-air performances including famous DJs, saxophone players, cabaret performers and dancers. The youthful and the young-at-heart will find paradise in La Folie Douce, Val d'Isère.

At the base of the magnificent Matterhorn that sits on the border of Italy and Switzerland is Zermatt, a charming mountain village. Zermatt is just one of the two ski resorts in the world that offers skiing all year round as the glacier offers more than 21 kilometres of intermediate slopes throughout the 'summer' months. The Matterhorn Glacier Paradise is the highest ski resort in Switzerland, located between Zermatt and Breuil-Cervinia at an altitude of just under 3,900 metres.

Aside from the glacial skiing, this resort is a must-see destination due to the iconic backdrop of the Matterhorn, otherwise known as the Toblerone Mountain. Overlooking Switzerland and Italy, the Matterhorns peak reaches 4,478 metres, making it one of Europe's highest summits.

Being that Italy and Switzerland neighbour each other, you can start your day with a few runs in Switzerland and then ski down into Italy for lunch, this resort really brings a new meaning to cross country skiing. The Zermatt village is renowned for its entertaining crowds and live music and is regarded as one of Switzerland's top resorts for social skiing. Every day after sunset, skiers and snowboarders congregate at one of the numerous mountain huts at the base of the Matterhorn for après drinks, the atmosphere here is unmatched.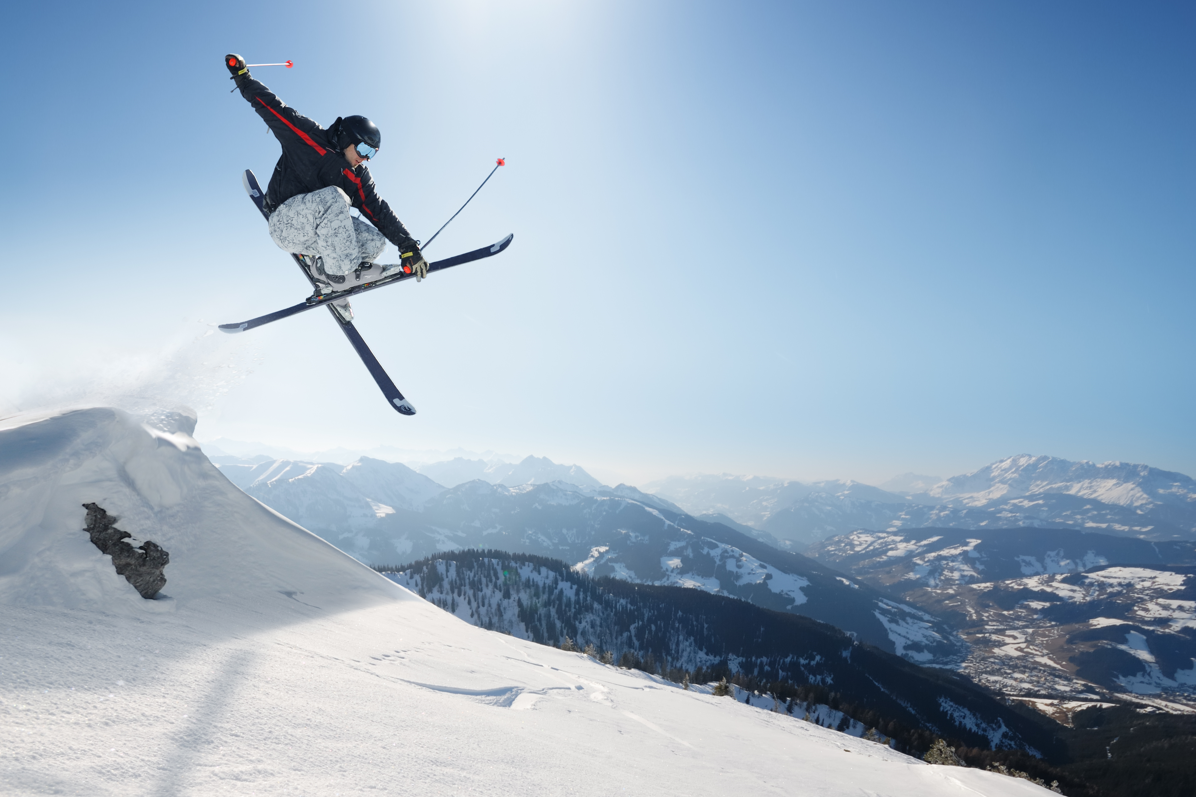 Cortina d'Ampezzo is also known as the queen of the dolomites, is a glamorous bucket list destination for your next ski holiday. The Dolomites were named a UNESCO World Heritage Site for their glacier-carved profile of vertical cliff faces and rocky pinnacles and given that Italy held its first Winter Games here in 1956, this location is clearly ideal for skiing.

Cortina d'Ampezzo has the highest concentration of downhill ski resorts in the Dolomites, but it also has a tonne of cross-country ski trails through breath-taking mountain scenery. Although you might think a resort like this must be overcrowded, you'd be surprised; since many Italian tourists come here for the social scene rather than the skiing, the slopes are some of the least crowded in the Dolomites. We advise travelling in the spring – the snowfall in this region of the Alps isn't as consistent as other resorts, but the great snowmaking more than makes up for it. Plus, on the slushy days the town offers a variety of additional entertainment options, such as an art gallery, a movie theatre, a climbing wall, ice hockey games, and indoor ice skating.

St. Anton is recognised for being a powder skier's paradise since it receives an impressive 7m of snow on average each year. There is plenty of skiing here for beginners to enjoy, despite the fact that its runs are often more suited to expert skiers. St. Anton's Mountain ranges (and après ski bars) are ideal for enthusiastic skiers and boarders who have boundless energy and want to test their limits.

This resort suits a range of budgets and variety of ski levels as there are a variety of slopes and accommodations to choose from, the only downfall is that this is a well-known location and can often be very busy.

The iconic mountain side bars placed the St. Anton ski resort back on the party map in the 1960s. But fear not, for visitors seeking alternative off-slope entertainment or for those looking to ease the effects of an après hangover, the towns Wellness Center offers swimming, skating, fitness, and pampering facilities.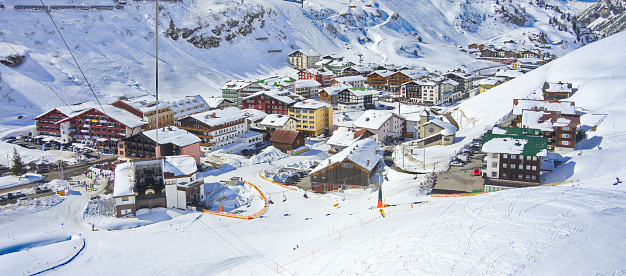 Geneva and Zurich are the most popular airports to fly to for skiing in Europe, both are gateways to the alps, and of course Priority Pass has you covered. After a long week skiing, relax and refuel in our comfortable Priority Pass lounges in Zurich and Geneva; or check out the other airport lounges available at Priority Pass.



Top North American Ski Resorts
One of the most well-known ski resorts in the world is Vail. It is blessed with outstanding natural beauty and a remarkably vast expanse of snow sprinkled slopes that satisfy the desires of any avid skier. Vail is comprised of 5,289 skiable acres, seven magnificent back bowls, and three world-class villages meaning there is something for everyone. Alternatively, if the skiing and snowboarding don't provide enough adrenaline, Eagle's Nest Mountain offers tubing, dog sledding, snowmobiling, and even an indoor roller coaster.

Lionshead, Golden Peak and Vail Village are the three villages, that connect the resort. All three offer free shuttle buses that run late into the night giving you the opportunity to explore the wide selection of restaurants, stores, and après-ski attractions in each. We recommend Root and Flower for post ski refreshments or if you fancy skipping the slopes entirely and heading straight for brunch, we recommend trying the Gravity Haus.

The lava dome complex known as Mammoth Mountain is located across the Mammoth Lakes in the Inyo National Forest. Its location makes it exceptionally snow-reliable, and with over 3,500 acres or more of skiable runs, everyone can enjoy it. The lifts open as soon as the first snowstorm hits the Sierras, which can happen as early as October and he season typically lasts through May and occasionally even into June.

On a clear day, the mountaintop panoramas themselves make the entire journey worthwhile before you even hit the slopes. Skiing in Mammoth Lakes is an amazing experience, regardless of whether you're a professional skier eager to test your skills on the challenging Californian terrain or a beginner looking for a beautiful and unforgettable environment to improve your skills. Because of reliable snowfall, large terrain park, and varied mix of open bowls and tree run, skiers who frequent Mammoth Lakes become addicted and begin returning in the summer as well.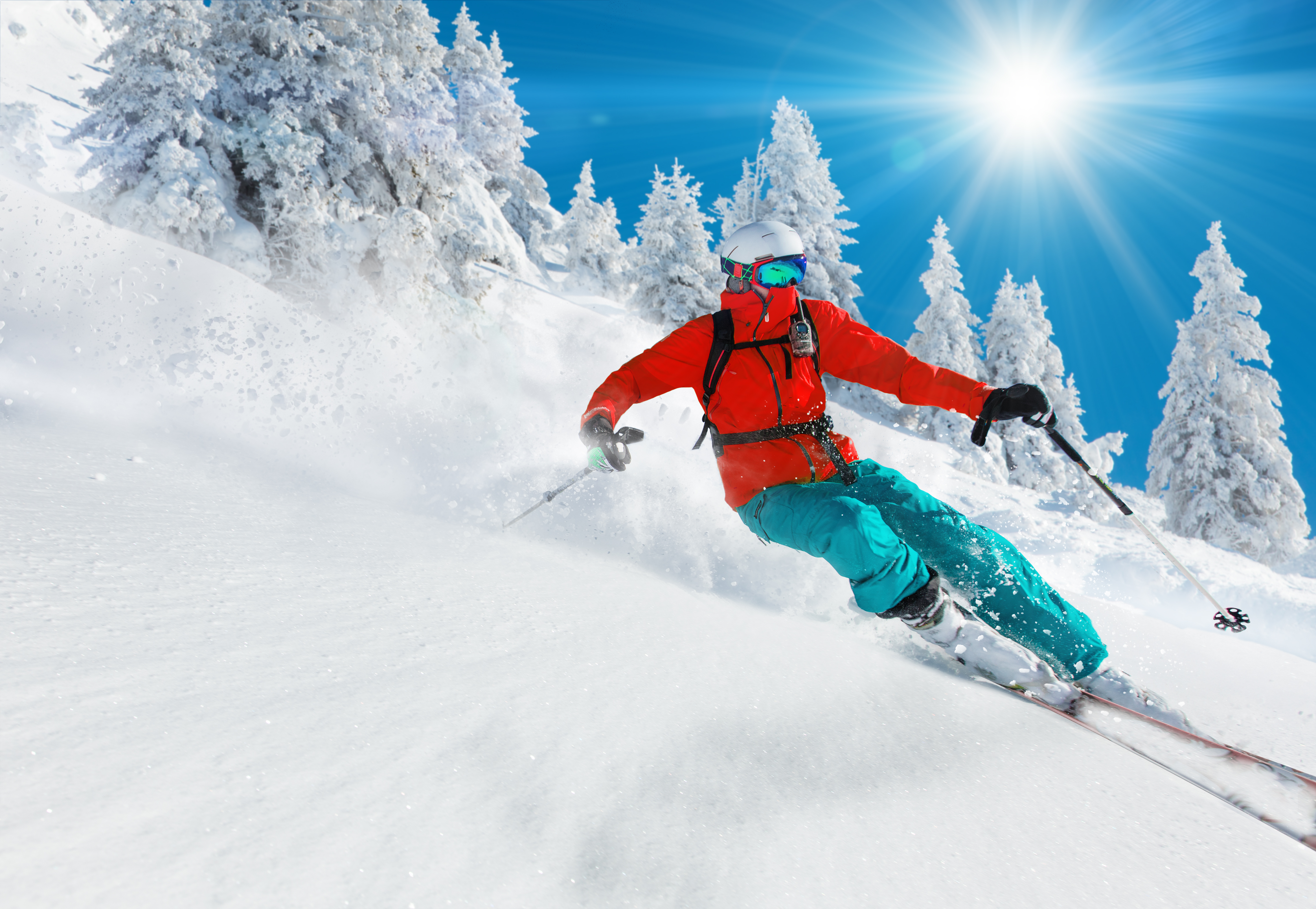 One of the biggest ski resorts in the United States, Park City, is a powder nirvana offering 7,300 acres of varied alpine terrain for exploration including 3 glaciers, 4 bowls, 17 peaks and 7 terrain parks. Park City is a vibrant cosmopolitan town that attracts many visitors for purposes other than skiing (even in the winter), which speaks volumes about Park City's numerous attractions. An impressive selection of long runs, deep bowls, and a variety of short blacks, blues, and greens lead to either the Park City or Canyons Village base at the Park City Mountain resort.

For convenient access to the slopes, there are plenty of ski-in/ski-out accommodations to choose from in Canyons Village or Mountain Village. There are also many bars, cafes and restaurants to refuel or unwind at any of these two base camps; they offer everything from takeaway coffees, serviced lunches, brunches and après ski lounges. Main Street, which ascends through the middle of the town, is Park City's vibrant centre, at dusk, it comes to life with live music, dancing, and even locally brewed beer.

If the enormous runs, impeccable snow record and lively resort weren't enough, Whistler is reaching new heights this winter thanks to new lifts, including a new Blackcomb access gondola. This ski region, which spans two enormous mountains (Whistler and Blackcomb), provides an unbeatable variety of runs, meaning beginners can feel confidents and experts can be occupied for weeks. The only problems are the crowds and lift lines, although these should be alleviated with the new lifts.

With a resort as expansive as Whistler Blackcomb you'll be blown away by the gorgeous panoramic views at every corner. The ultimate view is from the 1,400-foot-high Peak 2 Peak Gondola, the views from above are quite simply breath-taking and give perspective of how truly enormous the resort is.

There are three primary bases: Creekside, Upper Village, and Whistler Village, which serves as the centre of the community. With a wide variety of bars and restaurants to suit most budgets as well as some fantastic shopping opportunities, the resort village provides for a perfect base.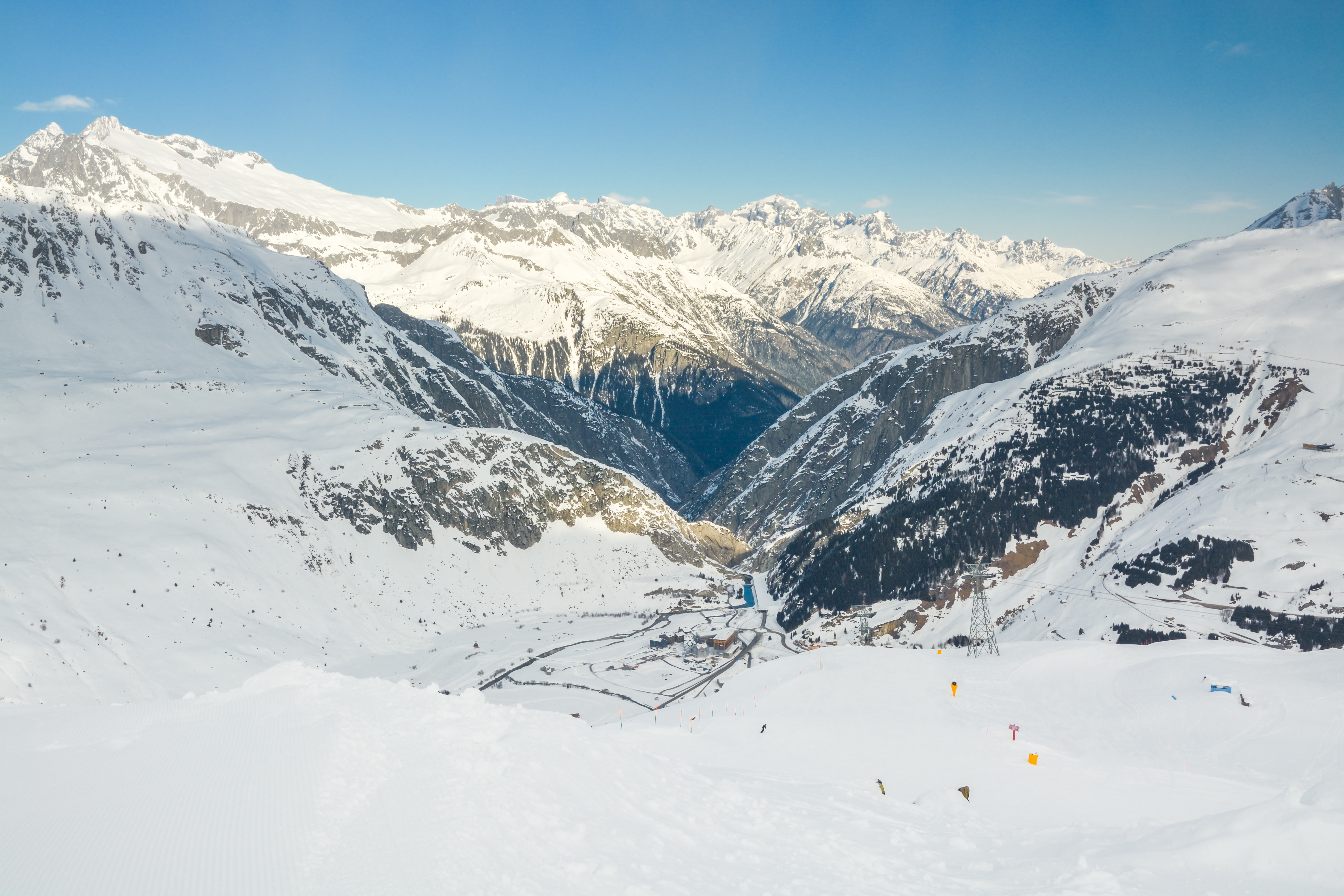 If you are hitting the slopes in the States or Canada? Make your journey through Colorado Springs or Vancouver a breeze. Escape the crowds in a comfortable and tranquil environment, sit down, stretch out, and enjoy a pre-flight bite or refreshment in our Priority Pass lounges.



Top Asia-Pacific Ski Resorts
Located in Hokkaido, Niseko Ski Resort is officially the top resort in Japan. Niseko, which receives an average of more than 15 metres of snow per season, is well known for the constant powdery snow throughout the winter as well as for the remarkable views of Mt. Yotei. It consists of 4 interconnected ski resorts, Grand Hirafu, Hanazono, Niseko Village, and An'npuri, meaning you're sure to have sore legs at the end of your trip.

The variety of snow sports available offer make a thrilling way to explore the surrounding region and see the unique views. You can go snowmobiling, snow shoeing, cat skiing and heli-skiing, alternatively you can relax and unwinding at the ice festivals or by visiting the natural occurring hot springs.

Niseko also comes well-recommended as it offers lessons from English-speaking professionals and caters well to multilingual groups and families; meaning visitors from all over the globe can feel confident and safe on the slopes. Other major benefits are Hirafu's wonderful village atmosphere, are the fantastic shopping opportunities, the varied cuisines in the delicious restaurants, and the vibrant nightlife.

You are missing out if you haven't been to Hakuba yet. The peaceful, serene mountain valley of Hakuba is a favourite for hikers and nature lovers throughout the year, however come December, it is transformed into a high-class ski resort.

Located in the extraordinary Northern Japan Alps, the powdery snow fall is consistent, and the annual snowfall is often over 11 meters. Hakuba offers ten distinct resorts, 8 km long runs, 135 lifts, and more than 200 runs; so, it is no surprise that visitors come from all over the globe to visit the top tier facilities and it's even less surprising to know that Hakuba Valley hosted the 1998 Nagano Winter Games.

There is a plethora of accommodation options in Hakuba including luxurious options, budget friendly options and self-contained lodging; which is a rarity at Japanese ski resorts. If you are looking for a good evening atmosphere or to sample some of the mouth-watering local delicacies, we recommend staying in Echoland or Happo.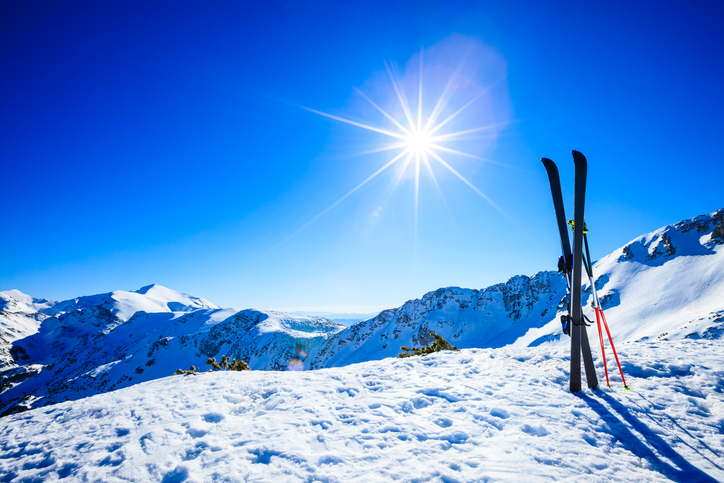 Treble Cone, in Lake Wanaka, is the premier ski destination in the Southern Hemisphere. The longest vertical in the Southern Lakes can be found at Treble Cone, the largest ski resort in New Zealand's South Island. It is renowned for its long, empty slopes, legendary off-piste terrain, and unmatched views. For those who value less crowds and gorgeous scenery, this resort is ideal.

Unfortunately, Treble Cone, like most ski areas in New Zealand, does not offer mountainside accommodation. However, the resort is close to both the charming village of Wanaka and the bustling metropolis of Queenstown, both of which have daily shared and private shuttle services.

Both locations are charming little alpine resorts encircled by the breath-taking beauty of the Southern Alps National Park, which is listed as a World Heritage Site. The towns have a laid-back, welcoming atmosphere and is full of restaurants, cafes, and bars. The towns come alive during the winter with over 40 bars and pubs to choose from. If you find yourself travelling via Tokyo Narita International or Auckland airport on your next ski holiday, Priority Pass can help make time fly before you do. With 1,400+ airport lounges and travel experiences around the world, you're bound to find something new each time you travel.