From city breaks and poolside cocktails, to family beach days and solo backpacking adventures, travel is a universal way for people to escape from everyday life and enjoy themselves. Yet, while travel booms, it appears a new trend is emerging: FOSO, a fear of switching off.

According to new global research from Priority Pass - the original and market-leading airport experiences programme, owned and operated by Collinson - surveying 8,500 people across 11 countries – over a third (35%) of people find it difficult to truly switch off from everyday life while on their travels.

The data also shows that the airport experience is critical to how well people can – or cannot – switch off, with more than 6 in 10 (62%) travellers saying pre-flight issues can initiate FOSO on the rest of their trip. However, FOSO can be subsided with particular airport services: 53% people said that visiting an airport lounge has improved how they've been able to switch off during previous travels.

Unpacking FOSO

With travel once again on a resurgent ascent, Priority Pass asked respondents what was causing FOSO and holding them back from experiencing the true benefits of travel.

The constant pressure to be connected is proving a challenge for many. The majority of respondents admitted to feeling worried about missing messages when not looking at their phone (73%), feeling more stressed having it turned off than on (67%), or leaving their accommodation without it (59%).

The presence of FOSO is particularly prominent among younger travellers. Over half of Gen Z (aged 18-27) respondents admit they struggle to reduce their phone usage (58%) and still check work messages (51%) when travelling, which far exceed that of Baby Boomer (aged 59-77) respondents (33% & 29% respectively).

According to 76% of all respondents, tackling FOSO ahead of travelling could significantly benefit their overall wellbeing. This implies that its influence lasts beyond the moment you return home and forms an important part of your day-to-day happiness.

Making every trip count

As such, Priority Pass asked survey respondents to dig deeper into the habits and environments that best enable them to combat FOSO and effectively switch off on their travels.

The airport experience has fast become a leading barometer for how well people can relax or enjoy their trip. However, data also suggests the pre-flight experience can actually be a valuable place to tackle FOSO.

In addition to those that have already enjoyed the airport lounge experience, (70%) of all people believe that visiting one would have a beneficial impact on how they switch off for the remainder of their trip. Travellers selected a smooth check in, food & beverage, sleeping, and shopping as the next most effective ways to switch off pre-flight.

For many, 'that holiday feeling' associated with travelling actually begins long before arriving at the airport. One-third (34%) of people switch off when they're planning their trip, highlighting how important it is for the travel industry to make every step of the journey stress-free and enjoyable, from the booking to the beach.

"We all know that being able to switch off and get away from the stress of every day is more important than ever. That is why so many are turning to travel. However, from our research FOSO is real. We want to ensure people can unwind and relax from the start of their journey, creating memorable experiences" said Christopher Evans, CEO of Collinson International.

"We remain agile to changing travel trends to ensure we're always innovating our range of premium experiences and providing offerings which go beyond the airport lounge. From pre-booking airport transfers and lounge access to visiting sleeping pods, gaming lounges, and spa experiences, we are evolving our portfolio worldwide to ensure travellers can switch off at every point of the journey."

Finally, Priority Pass asked survey respondents to build the perfect FOSO-free trip. According to them, the best type of travel to switch off is a trip to the beach – followed by a city break, safari, and wellness retreat. The ideal time to go away for is 1 to 2 weeks and the ideal pre-flight activity is to visit a lounge.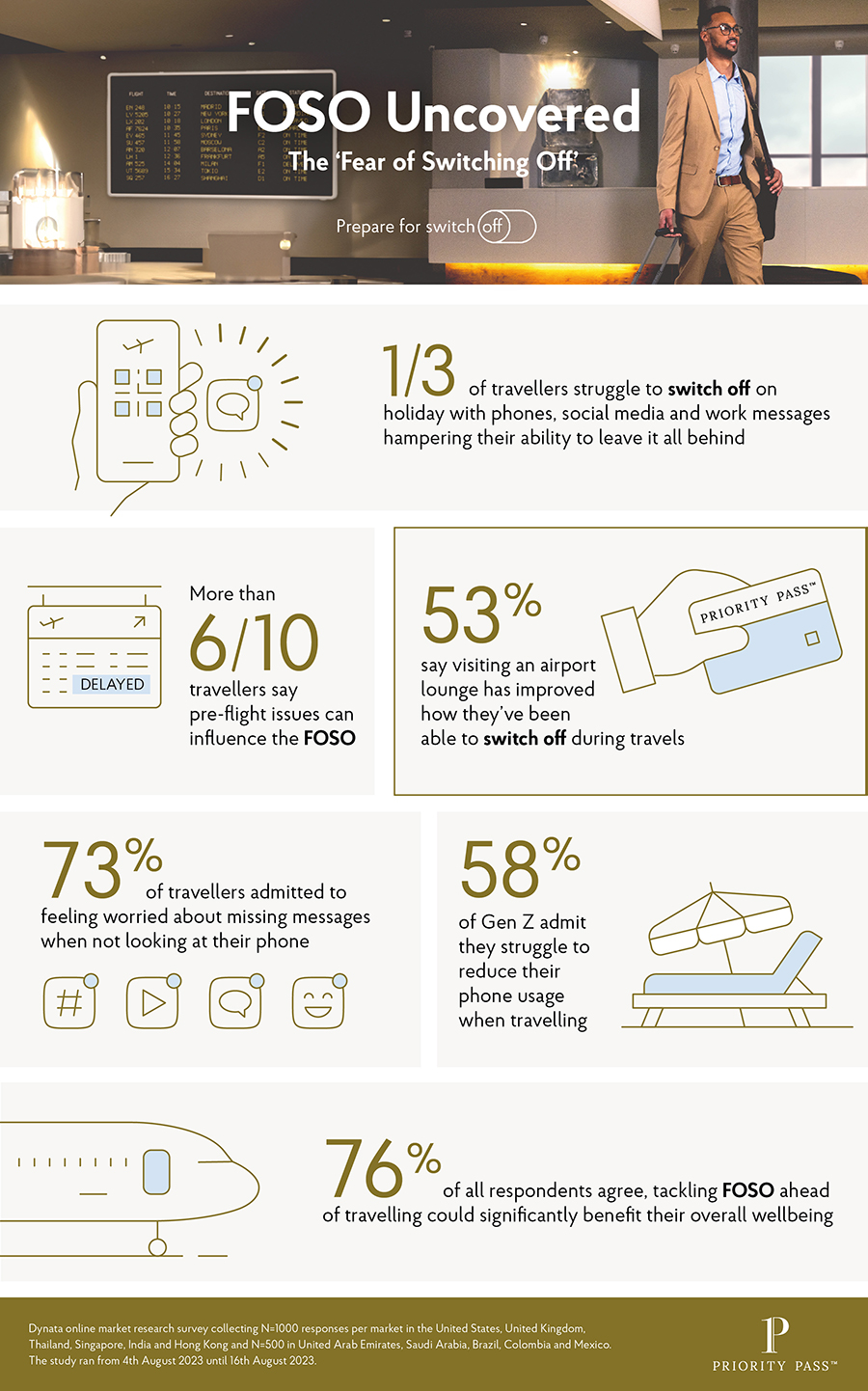 Research Methodology

Dynata conducted an online market research survey collecting N=1000 responses per market in the United States, United Kingdom, Thailand, Singapore, India and Hong Kong and N=500 in United Arab Emirates, Saudi Arabia, Brazil, Colombia and Mexico. These respondents were collected using a blend of Dynata's first party panel and panel partners (for UAE & KSA). The study ran from 4th August 2023 until 16th August 2023.