Everyone likes to shop around for the best deals before booking holidays, so we've compiled some of our favourite tips, tricks and hacks for finding the best prices on Google flights.


What is Google Flights?
Google Flights is one of the most effective price comparison tools currently available, it is free to use and can show you all your travel options in a matter of seconds. This search engine covers flights from over 300 airlines and allows you to filter through options by sorting via price, departure locations, arrival locations, cabin class, number of stops and duration.


5 tips for finding the cheapest flights on Google Flights
With numerous features for every need, such as flexible dates, the cheapest ticket from various cities, price alerts, and more - Google Flights is a great resource for finding low-cost tickets. So, the next time you are looking to book flights, use our collection of tips and hacks to save you time and money.


1. Be flexible on dates and location
One of the biggest keys for travelling economically is flexibility. If your aim is to travel and save money at the same time, the best course of action is to be versatile about where you go. Go to Google Flights enter your preferred dates and click 'Explore Destinations'.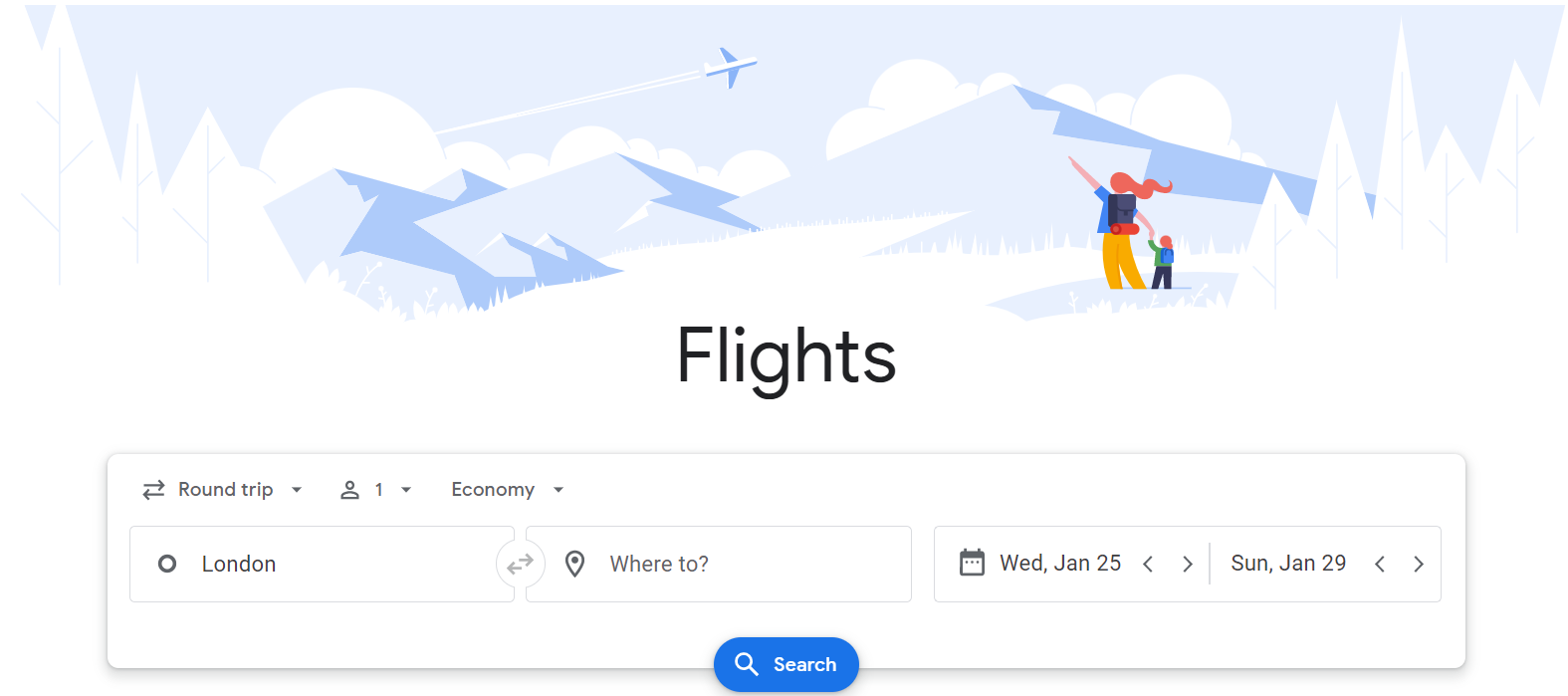 This will take you to a map displaying the most affordable destinations and prices that you can travel to. Alternatively, if you have a location in mind but don't have to be strict with your dates, we suggest using the date grid.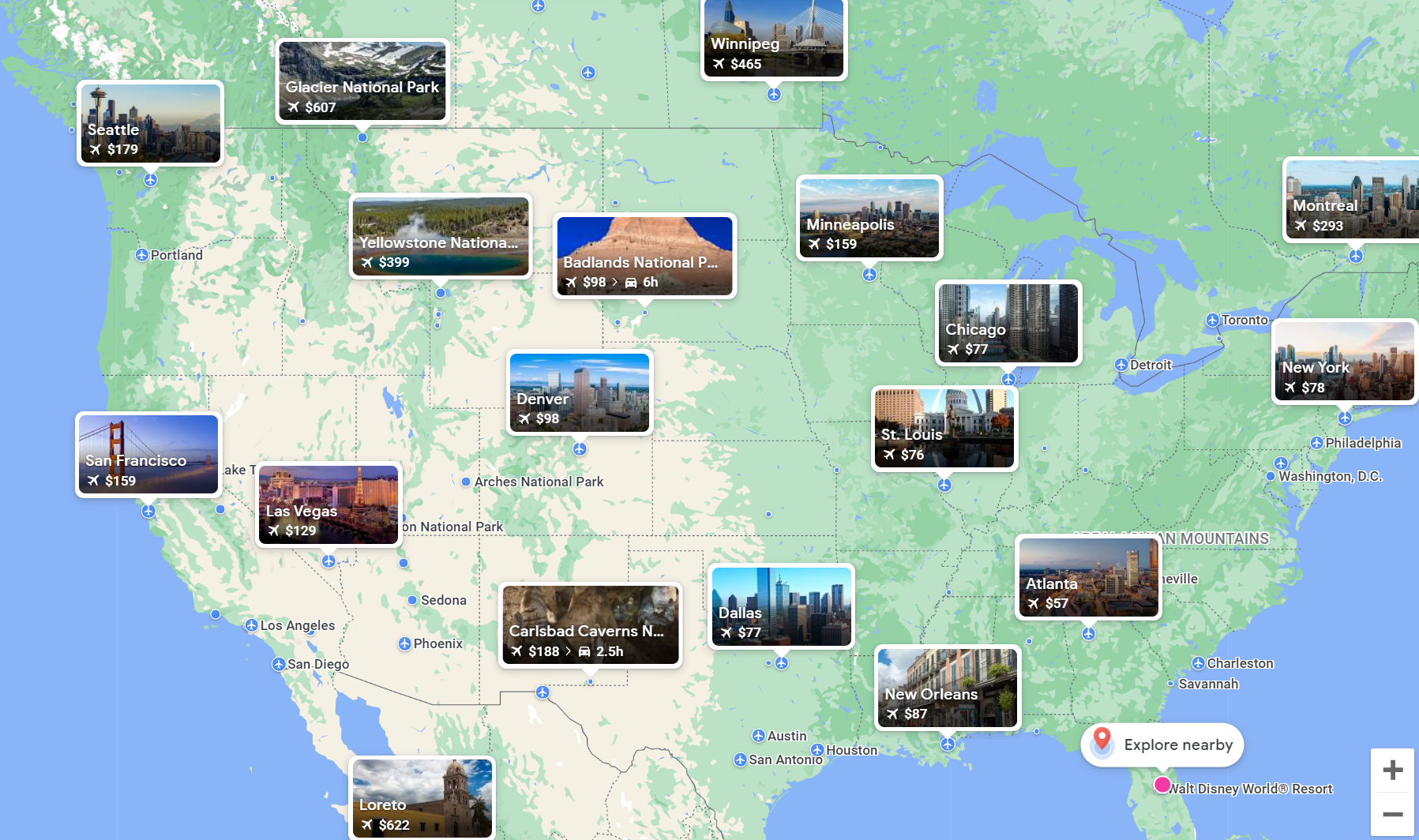 The date grid can be found on the upper right of your search results. When you click it, a grid of departure and return dates around the ideal dates you've selected will appear. Dates in green indicate the lowest prices, whilst dates in red show prices that are higher than usual. You can scroll up or down to look at even more dates to shop around to discover the best rates for your budget. The price graph on the subsequent tab is another useful visual indicator to compare flight patterns and to establish the optimal times to fly.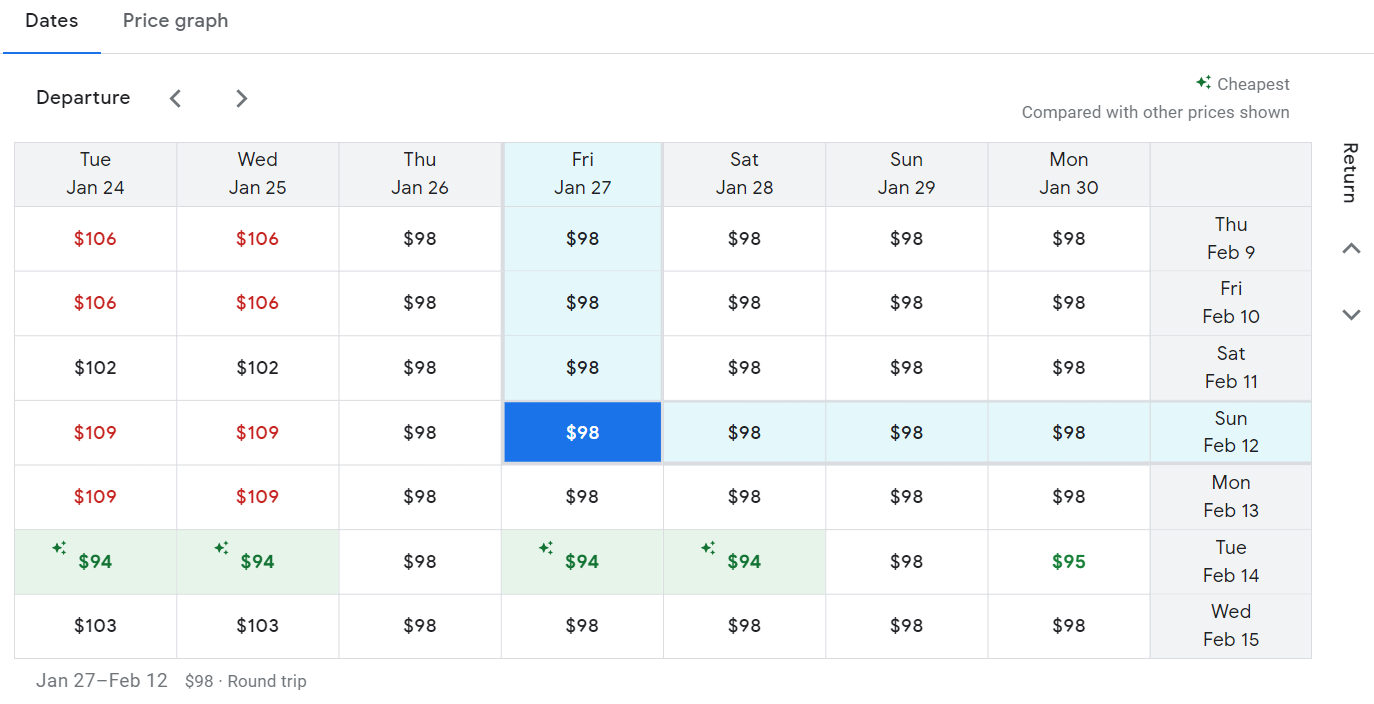 Again, being flexible with your departure location can also benefit you. Generally, when it comes to departures, airports with more outgoing flights tend to offer lower prices due to multiple options available. However, the opposite might occasionally be true, particularly in places with multiple airports. Be adaptable – expanding your options will usually lower the prices. Rather than staying with your usual airport of departure: conduct a search by city or location, with Google Flights you can broaden your search and include multiple departure and destination cities in a single search.



Being able to search up to seven origin locations and seven destinations at once using Google Flights, gives you lots of possibilities for a trip. You can specify different stops, prices, airlines, and time limits using Google Flights' filters to make sure you get the flights you want.


2. Use Price Alerts and Trend
Keep an eye out for price changes for your destination by monitoring price trends and setting up price alerts. When looking to book for your next flight make sure you start to look in advance. By doing this you can discover how far in ahead of your travel you should be booking. The price graph feature gives insights on current predicted prices, using data from the past 12 months including information on flights with the same origin, destination, number of stops, class, airline and season travelling.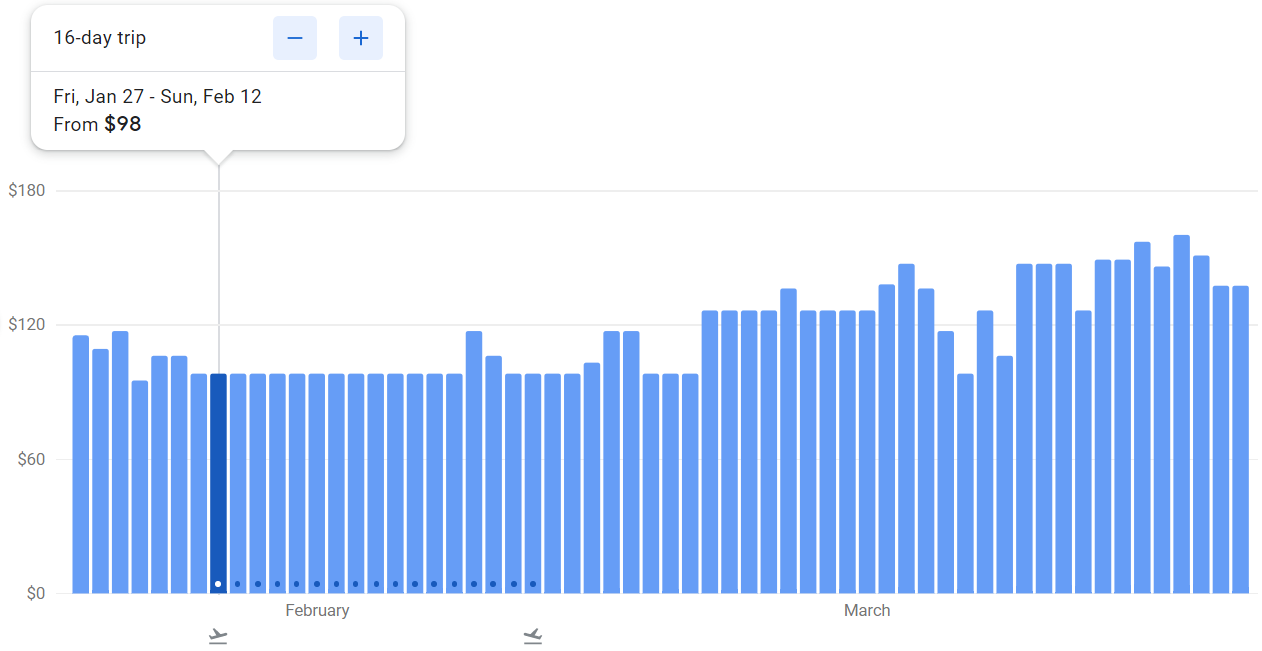 Sometimes, the last-minute flights, less than a fortnight ahead of your travel can be significantly less expensive and even up to half as expensive. But, you won't need to worry about the most affordable booking time when you use the price tracker as you'll be notified when prices drop, and you'll be able to book straight away.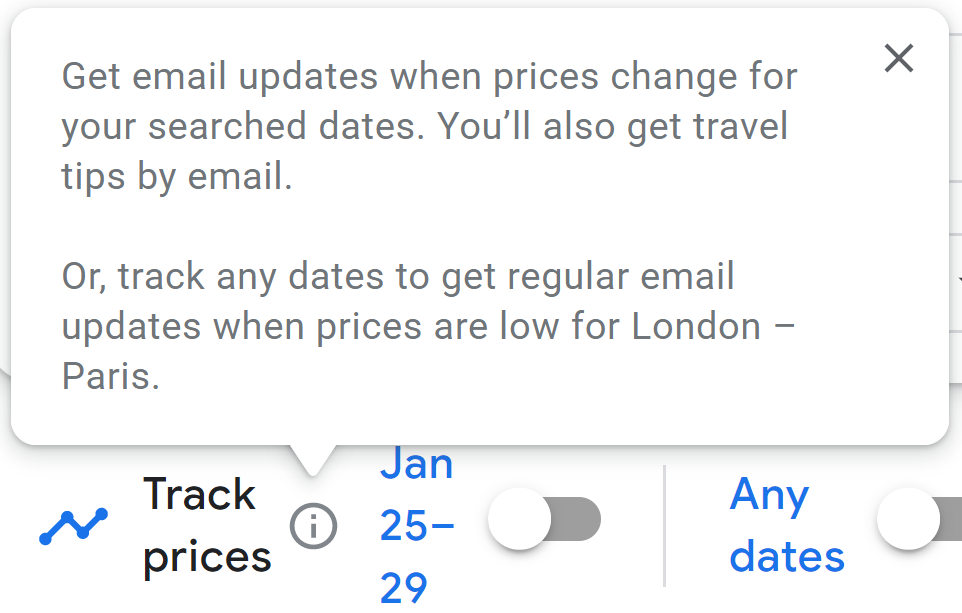 3. Book through airlines directly
Once you have done all your research and have selected your preferred flights and dates, book directly with the airline. Booking directly not only means you can earn points, build your status and gain rewards, but if your flight happens to be delayed or cancelled it is easier to deal directly with the airline than having to deal with a third party.


4. Use incognito mode or a private browser
This is a tip that most people know about, but it must be said, when browsing for flights, switch to incognito mode or use a private

browser

.

The rates you see while searching for flights are frequently determined by the cookies and history stored in your browser. As you have already investigated flights to this specific destination, these flights will now display a higher price for you as you have previously shown interest and there is a perceived higher "demand."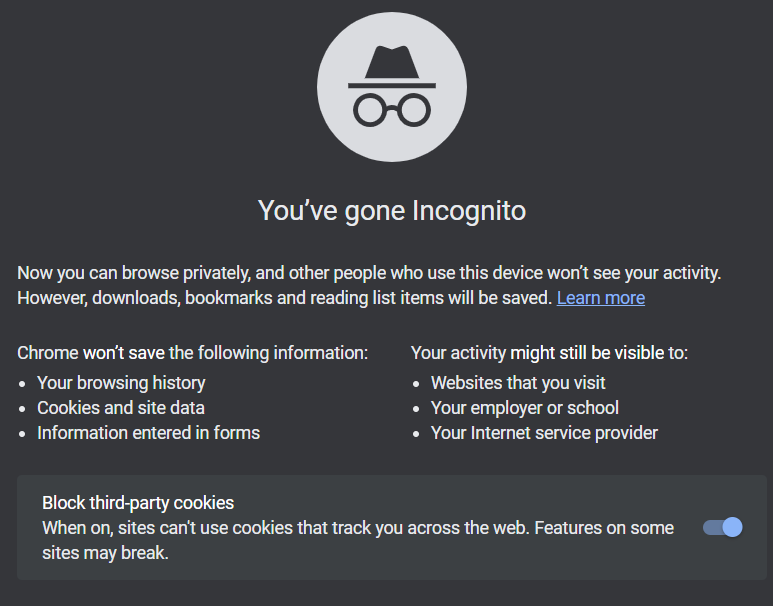 5. Book one-way flights
Consider buying a one-way ticket rather than a roundtrip if you want to save money and have more flexibility to extend your vacation. There are many instances where it is less expensive to book two one-way flights, with two different airlines, than it is to book a return trip with the same airline.

Using Google Flights to search for one-way flights is the easiest way to get the cheapest prices. The least expensive tickets will appear first, and you can use a variety of filters and calendar views to find the best flight. Additionally using two one-way flights also allows you to book with more than one airline and as different airlines usually offer alternative flight times, you can find journeys that are most suited to you.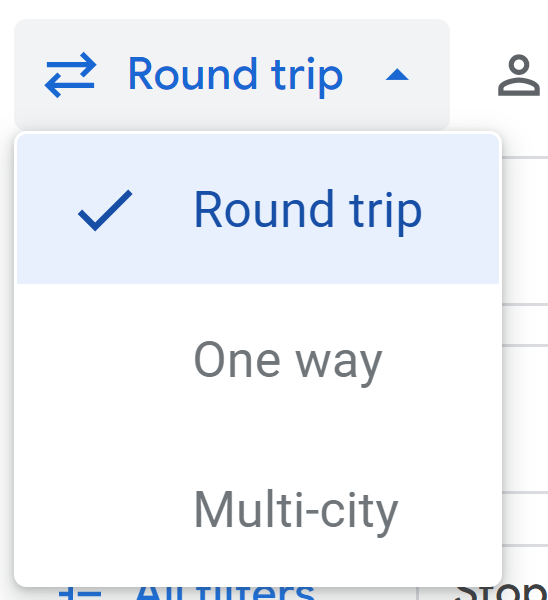 6. Pros and Cons of Google Flights
There are some serious advantages to using Google Flights over other comparison sites or airlines.


Google Flights displays months' worth of flights and fares in seconds, making it one of the speediest flight search engines.
The programme uses tools to inform you whether the prices you are viewing are higher, lower or average for the time you are flying allowing you to make the most informed decision.
It is available to use on mobile with an efficient and clean layout.
With Google Flights, you can simultaneously search from several airports to determine the most affordable airport to fly out of, helping you cut costs on your travels.
The filtering options are exceptional with a variety of options meaning you can avoid the flights you aren't interested in and find the perfect ones to suit you.
The simple and intuitive calendar allows you to find the cheapest prices over the coming year.
You can view the Google Flights Explore map to see where it is cheapest to fly during the dates you've chosen.
The search engine is flexible with finding multi-city trips, one ways trips and return trips.

Despite this, Google Flights does have a few drawbacks, however these are certainly outweighed by the pros.


As Google Flights doesn't cover all airlines, occasionally you'll find cheaper flights on smaller airlines that aren't featured.
Google Flights will occasionally display a fare as being available at a specific price, but when you click to proceed the fare increases or becomes unavailable.
You cannot purchase flights, car hires or hotels directly from Google Flights, you are instead taken to the company page.